Vietnam Blockchain Corporation introduced "Agridential," the GS1-compliant blockchain based traceability solution, at the training series "Effective E-Commerce Solutions for Enterprises."
Da Nang, May 28, 2019 – Representatives of the Association Blockchain Vietnam, Vietnam Blockchain Corporation (VBC) and Infinity Blockchain Labs (IBL) discussed traceability solutions based on blockchain technology at the training program, "Effective E-Commerce Solutions for Enterprises." This program was organized by the Department of Industry and Trade of Da Nang City with Vecom (Vietnam E-commerce Association) with the support of communication and business connection by VTC News & SSDe.vn.
The training program was built with the goal of providing a better understanding of online business solutions. The program further looks to equip workers with knowledge of e-commerce and current economic and technology trends in production and company business activities.
Participants include Business owners, sales managers, and employees in the areas of retail, marketing, related departments, universities, colleges in Da Nang city and the central provinces (Quang Nam, Quang Ngai, Binh Dinh).
Mr. Do Van Long shared about blockchain technology & "Agridential" solution at the training session
The training program gave businesses the opportunity to interact with technology experts, receive updates on new business strategy trends, and network with other businesses and suppliers. The business operations solutions presented can help a wide range of business sizes maximize profits by lowering operating costs.
The Vietnam e-commerce market is growing rapidly. There are thousands of visits to e-commerce websites daily and the demand for transparency to promote product quality is growing.  The e-commerce market is quickly becoming a potential market for Vietnamese businesses.
Traceability solutions using blockchain technology attract the attention of numerous participants
As E-commerce is relatively new, there are still many difficulties in the product quality management system.  Present concerns and areas that need improvement include brand management, supply chain management, and information management. The implementation of effective e-commerce solutions will help businesses gain competitive advantages.
Mr. Do Van Long, Deputy Head of Blockchain Association, Director of VBC, and Chief Regional Strategic Officer of IBL, guides the implementation of the blockchain based in traceability solution of agricultural products on the supply chain called "Agridential." "Agridential." "Agridential" is the GS1-compliant blockchain-based traceability solution that enables transparency in information and product quality which increases consumer confidence.
Blockchain traceability helps consumers verify the quality of agricultural products and nearly eliminates fraud and risks in the supply chain.  This enhances brand reputation and creates value for businesses in the local market. Information is distributed and scattered into multiple versions on a multi-server community that ensures privacy.  The information is not centralized on a server, so phishing is almost impossible.
Mr. Long presented a successful case study of the "Agridential" solution through an example of mango products in My Xuong Cooperative in Dong Thap. Each mango is given a QR Code identification stamp using GS1 standard blockchain technology. Consumers can easily look up all the information of the mangoes from their origin such as fertilizing, spraying, and fruit bags, along with information on harvesting and distribution.
All information is recorded by individuals (gardeners, cooperatives, distributors …) in order to avoid the situation that one party manipulates all information. Since all information is recorded using blockchain technology, the information is immutable, meaning the information cannot be deleted, modified, or tampered with.
GS1 is a globally recognized standard. Therefore, the application of GS1 standards in the traceability of blockchain technology applications makes verification easier when exporting to major markets and contributes to the increase of product value.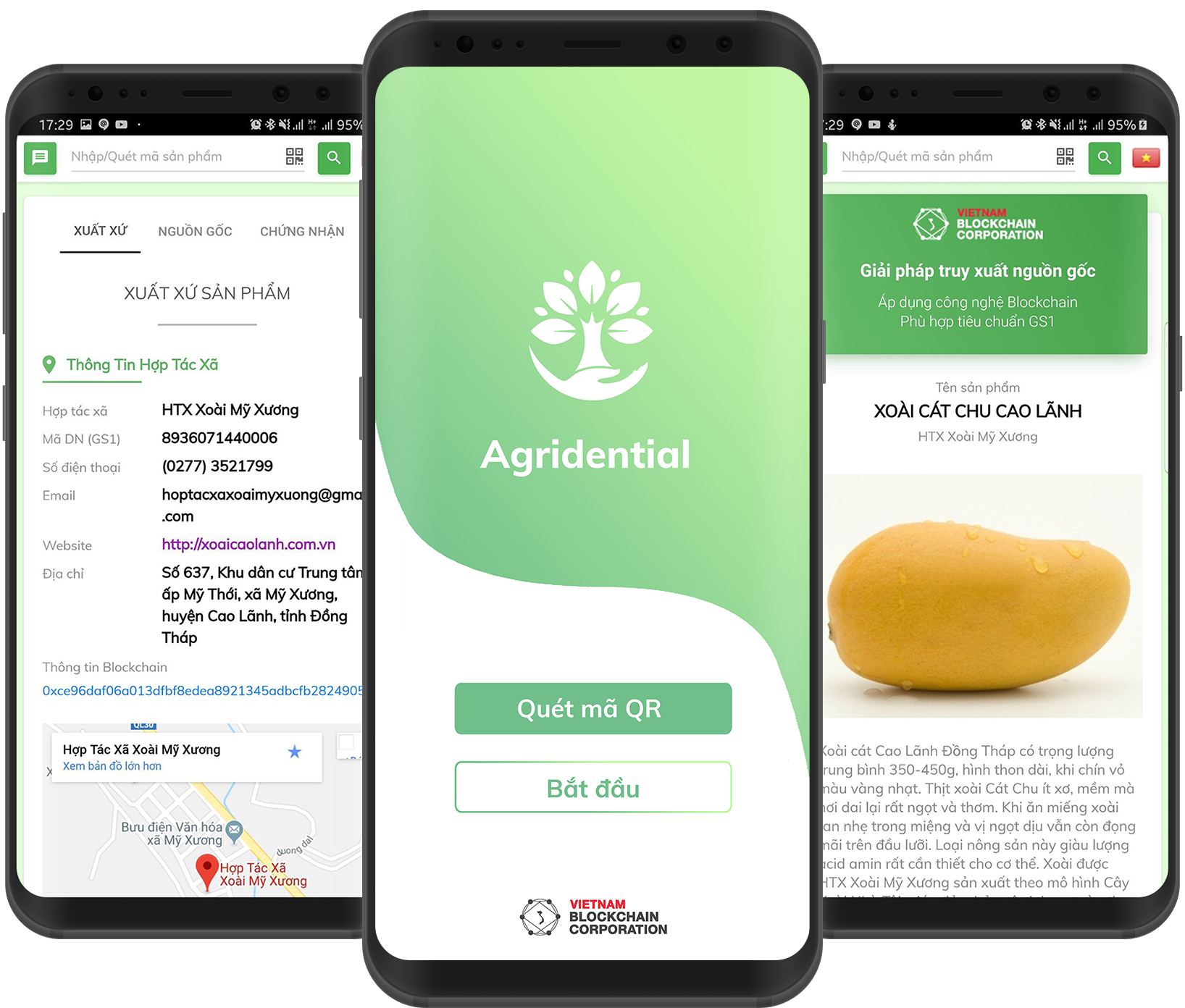 Agridential application interface
At the training session in Da Nang, the "Agridential" solution was also piloted on coffee bean products of Mayaca Coffee, belonging to Mayaca Coffee Company Limited. The story "real case, real product" with blockchain technology and the "Agridential" project received tremendous feedback from the parties and the businesses in the province.
In Mr. Long's explanation, he compared the benefits of the blockchain Agridential application solution to traditional QR Code information delivery solutions. Such QR-Code solutions only allow links to websites and provide static basic information. The information does provide status updates or any information on transport, preservations or delivery, and the information shown could be altered.
With Agridential, all information is recorded using blockchain technology, the information is immutable, meaning the information cannot be deleted, modified, or tampered with. This is the main feature of the decentralization system on the blockchain. Information is stored in a multi-server community, it is not concentrated on a server thus the ability to tamper is almost impossible.
Furthermore, Mr. Long proposed the application of the Agridential blockchain traceability solution for supply chains in Da Nang and the Central and Highlands provinces. High-quality agricultural products can be accessed according to the value chain will affirm the typical brand of the province. Since then promote and expand Community Agriculture model.
Vietnam Blockchain Corporation – VBC – Introduction
Vietnam Blockchain Corporation (VBC) is a technology company providing blockchain solutions and services in Agriculture, Manufacture, Supply Chain, Logistics, E-Commerce, Fintech, Sharing Economy, Public Services, and Smart City.
VBC aims to power Vietnam in becoming a Blockchain Country & Expert Hub.
VBC, formerly Vietnam Blockchain Country, is a subsidiary of Infinity Blockchain Labs (IBL)
Infinity Blockchain Labs (IBL)
Infinity Blockchain Labs (IBL) is a visionary R&D company committed to advancing society with next-generation solutions.  IBL receives global recognition through its renowned initiatives and influential partnerships while leading the blockchain ecosystem in its home, Vietnam.  IBL's mission is to be the R&D engine that transforms future technology into practical applications for business and everyday life.
In fulfilling this mission, IBL turns the complexities of blockchain technology into practical solutions through a comprehensive range of IT consultancies, the creation and integration of Apps, and an unyielding commitment to the research and development of cutting-edge blockchain innovations. Named one of the top ten blockchain technology solution providers in 2018 by APAC CIO Outlook, the 200+ employees at IBL aspire to empower Vietnam and all of humanity with powerful blockchain innovations to power the future.
Contact information
Vietnam Blockchain Corporation – VBCAddress: 5th Floor, Flemington Building, 182 Le Dai Hanh, Ward 15, District 11, TP. HCM
Hotline: (+84) 0377 887 403
Email: contact@vietnamblockchain.asia
Website: https://vietnamblockchain.asia
Representative: Mr. Do Van Long
Director – Vietnam Blockchain Corporation
Regional Chief Strategy Officer – Infinity Blockchain Labs
Email: longdv@blockchainlabs.asia
Related posts