Together with many strong companies, VBC has been recognized as 50 Most TrustWorthy Companies of the year 2020 by The Silicon Review.

"For business around the world, it must be quite clear now that the blockchain will revolutionize the processes agencies. One of the main hurldles in blockchain adoption is that it requires time and effort. Moreover, people need to acquire to new skills to make the most out of the blockchain adoption. Blockchain is faster than and more secure than the rest because the records from it cannot be stolen or changed. Blockchain is now being used beyond cryptocurrency, and it is expected to continue to create jobs for people.

Blockchain will have a wide range of applications, and Vietnam Blockchain Corporation is a firm that is dedicated to building blockchain-based solutions. The company is already providing its blockchain solutions and services in many fields, such as Manufacturing, Logistics, Supply chain, E-commerce, Sharing Economy, Agriculture, Fintech, Public Services, and Smart City. Some of their notable projects include Blockchain-based traceability for exporting mango to the USA, Smart Ballot in TECHFEST 2018, Donation tracking on Blockchain platform, Blockchain-based credit valuation solution, and Blockchain solution to address worker right challenges, and Study on the Innovations and Challenges in the Digital Traceability towards Safe, Fair and Sustainable Food Supply Chains in Asia."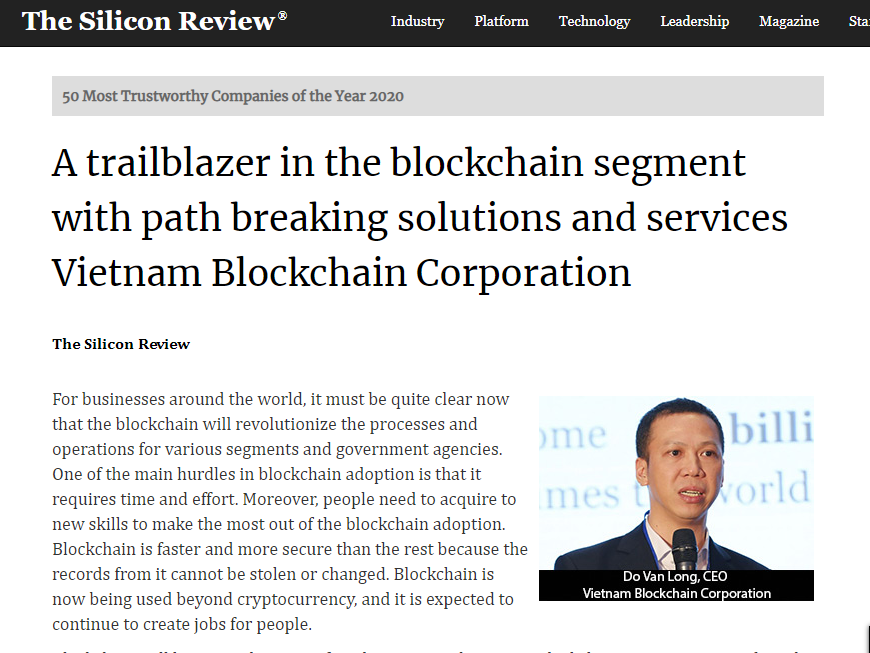 More information about The Silicon Review: The Silicon Review is the world's most trusted online and print community for business & technology professionals. The community members include thought-provoking CEOs, CIOs, CTOs, IT VPs and managers, along with jillions of diverse IT professionals.
The Silicon Review encompasses nine technology and vertical communities: Software, IT Services, Cloud, Mobile, Big Data, Security, Telecommunications, Hot Start-ups and The Best Companies to work for. Each community leader is a proven subject matter expert who collaborates with industry gurus, technology managers, researchers, top technology journalists, consultants and industry analysts. Team strictly focuses on accurate and timely delivery of informative articles that enhances spirited discussions in the future.
The Article: A trailblazer in the blockchain segment with path breaking solutions and services Vietnam Blockchain Corporation

Related posts