It is the era of blockchain. Research is in full swing to develop practical applications for blockchain in commerce and daily life.  Among its innovative uses, a compelling use case is in agriculture where the introduction of blockchain technology can radically improve traceability and quality control of agricultural products. "In the case of Vietnam where agriculture has always been a bright spot of Vietnam's overall economic picture, applying blockchain technology will bring about a paradigm shift. It will improve the ability to manage, monitor, produce, and process agricultural products through the value chain thereby enhancing competitiveness and export value of Vietnamese agricultural products," begins Do Van Long, Director of Vietnam Blockchain Corporation (VBC) and Regional Chief Strategy Officer of Vietnam Infinity Blockchain Lab (IBL). Through the application of blockchain-based traceability, the agricultural industry will have the opportunity to move into the high-value export segment.
Vietnam Blockchain Corporation (VBC) is a next-generation technology company providing blockchain solutions and services in agriculture, manufacturing, supply chain, logistics, e-commerce, fintech, sharing economy, public services and smart city. As a strategic subsidiary of IBL, VBC has led Vietnam to be a pioneer in researching and developing blockchain technology. Agridential—an amalgamation of agriculture and credential—a key project of VBC provides an innovative solution for Vietnamese agricultural products. Agridential is a blockchain-based traceability solution in compliance with GS1 global standards that allows easy access to retrieve information through the value chain, from the production process to consumption, helping farmers, cooperatives, and consumers to have transparency about products, in turn contributing to the increased value of agricultural products.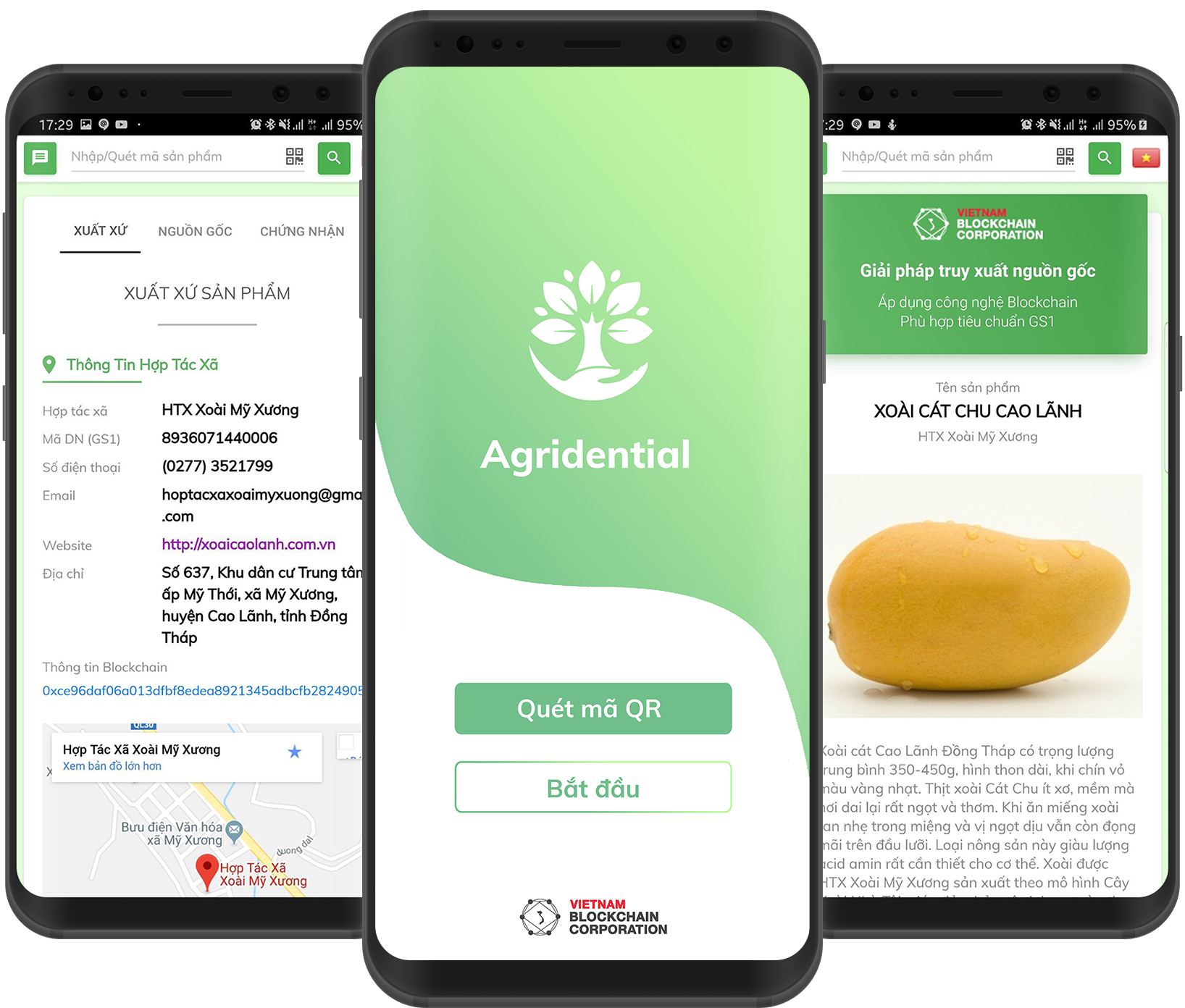 With the deployment of Agridential, Vietnam's My Xuong mango products in Dong Thap province have acquired an "upgrade to the next level", meeting Vietgap and Global Gap standards. Each mango got a QR code identification stamp using GS1 standards in blockchain technology. "In April 2019, the first eight tons of Vietnamese mangoes were successfully exported to the American market," says Long. All of the qualified mangoes met the requirement of Vietgap, with the stamp of quality assurance, no pesticide residue, and met size standard requirements.  Consumers can trace and track all product information, from fertilizing to spraying, packaging to harvesting and distribution. 
With all the information recorded using blockchain technology by individual parties (gardeners, cooperatives, distributors) it is highly immutable, impossible for anyone to delete, modify, or counterfeit. Along with GS1 standards, traceability using blockchain technology enables consumers to easily verify the quality of agricultural products, minimize fraud and risks in the supply chain, which invariably improves the reputation and brand value for businesses. This route to conquer the market is expected to open up many opportunities for Vietnamese agricultural products to enter diverse markets.
Besides Agridential, VBC has also been researching and developing two other projects named, "Smart Ballot" and "Self-Sovereign Identity". Smart Ballot is nothing but a blockchain-based voting application that improves traditional voting solution while Self Sovereign Identity applies blockchain in digital identification replacing manual customer identification, building a transparent, safe, and reliable management system. 
Over the years, VBC has associated with ministries, government, and non-governmental organizations in presentation activities as well as developing pilot projects to apply blockchain technology into practical applications. By always placing the human factor as the center of focus, VBC acts as a trainer and an expert advisor for enterprises by training developers and imparting technical advice in the production process, commerce, and other service areas. 
"As blockchain technology gradually enters a phase of showing real and tangible benefits, 2019 is on its way to becoming the year when research and pilot programs will increasingly become real-world applications for everyday life. VBC is spearheading this movement and aims to power Vietnam into becoming a blockchain country," concludes Long. Vietnam Blockchain Corporation is honored Top 15 Promising AgTech Startup in Asia Pacific 2019.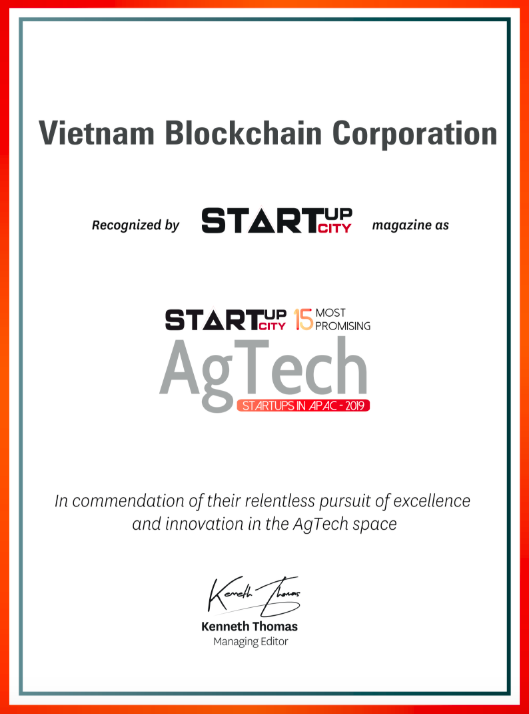 Source: Startup City Magazine online:
https://agtech-apac.startupcity.com/vendor/vietnam-blockchain-corporation-blockchain-powering-commercial-excellence-cid-244-mid-31.html
Related posts