Ho Chi Minh City, September 20, 2019 – Vietnam Blockchain Corporation (VBC), of Infinity Blockchain Labs, shares the trend of inter-regional value chain ecosystem at the World Blockchain Forum Indonesia. 
In order to promote the global innovation cooperation in the blockchain field in Asia and deeply explore the opportunities in the Indonesian blockchain market, the WBF 2019 Indonesia Technology Conference was held on September 20th at the Ritz-Carlton Jakarta, Pacific Place. The conference invited 40+ industry elites, 20+ quality projects, 50+ cooperation media and 500+ participants from the global blockchain field to gather in Jakarta to discuss the cutting-edge technological innovations and the innovations of the business model and international cooperation in the blockchain field.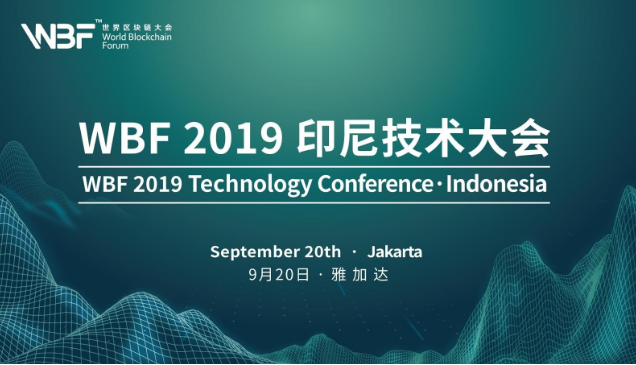 the conference has received many enthusiastic consultations from Asian blockchain quality projects such as China, Singapore, South Korea, Japan, Vietnam, Indonesia, etc. And some of them have already confirmed to participate in the Indonesia Technology Conference. At that time, 50+ professional media from Indonesia, Japan, China, etc, including Blockchain No.1, BeeCast, COINTOKYO, and Coin Express will be on-the-spot live coverage of the conference. the conference specially invites people in the investment field to share the value-adding cases of blockchain technology in various fields such as finance, internet of things, social communication, medical care, education, etc. And the conference sets up business social luncheons, projects docking and other ways to provide a space for face-to-face cooperation and negotiation so that opportunities can be generated in the exchange of contacts and technological innovation and application innovation will have greater effects in the integration.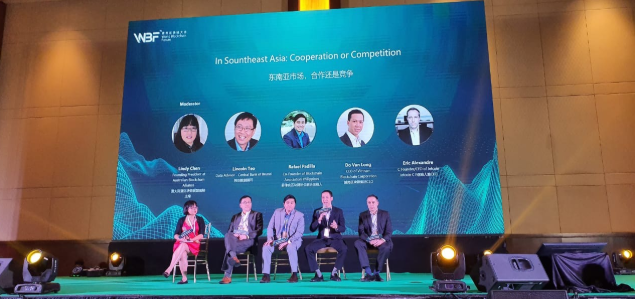 Mr Do Van Long shared in the conference
With the seminar titled "Cooperation or competition", Mr. Do Van Long, Director of Vietnam Blockchain Corporation and Regional Strategy Director, Infinity Blockchain Labs,identify current trend as symbiotic. Basically, blockchain technology is not a product born to compete with products on the market, but a technology solution combined with existing solutions to increase the transparency and reliability of value chain data.He took the example of a traceability solution along the value chain. With blockchain technology, traceability solutions help information to be objective, authentic and transparent, as well as to involve all parties in the value chain.
To illustrate the blockchain technology solution in value chain information accumulation, Mr. Long introduced Agridential, a value chain information accumulation platform based on blockchain technology, to help tracking and validate information in the agricultural value chain. Agridential, which stands for Agriculture and Credential, enables traceability and authentication of information in the value chain, from production processes to transportation and to consumers.
Looking at the international level, Mr. Long affirmed that blockchain technology is completely uncompetitive with existing solutions but actually a strategic partnership of mutual benefit. However, maximizing the benefits of blockchain technology requires close cooperation with local partners and government agencies of each country to expand the network linkage and co-ordinate into an inter-regional value chain ecosystem..
The WBF 2019 Indonesia Technology Conference aims to penetrate the Indonesian blockchain market and create an authoritative blockchain exchange platform. The conference invited more than 40 top block talents from all over the world to explain the cutting-edge blockchain technology and development trends, share unique insights in blockchain technology innovation, and have a deep discussion about blockchain technology innovation and industrial development. 
END
—–*—–
Vietnam Blockchain Corporation – VBC
Vietnam Blockchain Corporation (VBC) is a technology company providing blockchain solutions and services in Agriculture, Manufacture, Supply Chain, Logistics, E-Commerce, Fintech, Sharing Economy, Public Services, and Smart City. VBC aims to power Vietnam in becoming a Blockchain Country & Expert Hub. VBC, formerly Vietnam Blockchain Country, is a subsidiary of Infinity Blockchain Labs (IBL)
Infinity Blockchain Labs (IBL)
Infinity Blockchain Labs Co., Ltd. (IBL) is a company that researches and develops Blockchain technology with a commitment to promote social development with future technologies. With the leading position of the blockchain ecosystem in Vietnam and global market coverage, IBL aims to become an R&D unit that brings future technology into practical applications for existing businesses and daily life. Proud to be honored in the top 10 blockchain technology solution providers of 2018 by APAC CIO Outlook, more than 200 members at IBL aspire to make Vietnam a pioneer in researching and developing blockchain in the world.
World Blockchain Forum (WBF)
Since 2017, in New York, the World Blockchain Forum (WBF) brings together leading Blockchain organizations to discuss pioneering technology, explore the development and regulatory trends of the blockchain industry. This summer, WBF will work with industry elites to discuss and explore the future of blockchain industry.
The WBF now has more than 150 core team members, including elite experts from Columbia University, New York University, University of London, hundreds of Blockchain technical experts, and most of them have many experience in Blockchain industry.
In 2019, WBF has organized major global conferences such as: World Blockchain Forum – Shenzhen 2019; World Blockchain Forum – New York 2019; World Blockchain Forum – Singapore 2019.
Contact information
Vietnam Blockchain Corporation – VBC
Address: 5th Floor, Flemington Building, 182 Le Dai Hanh, Ward 15, District 11, TP. HCM
Hotline: (+84) 0377 887 403
Email: contact@vietnamblockchain.asia
Website: https://vietnamblockchain.asia 
Representative: Mr. Do Van Long
Director – Vietnam Blockchain Corporation
Regional Chief Strategy Officer – Infinity Blockchain Labs
Email: longdv@blockchainlabs.asia
Related posts