HCMC, September 18, 2019 – At Ton Duc Thang University, Ho Chi Minh City, Vietnam Blockchain Corporation (VBC), of Infinity Blockchain Labs, introduced blockchain technology and its application in the event. Ceremony of admitting new members and signing cooperation with Ton Duc Thang University Internet Association (Vietnam Internet Association), as well as exchanging between the university and member enterprises.
During the event, Mr. Do Van Long, Director of Vietnam Blockchain Corporation (VBC) and Regional Chief Strategy Director, Infinity Blockchain Labs (IBL), shared more about blockchain technology applications, namely solution of applying Blockchain technology to traceability with the value chain, named Agridential.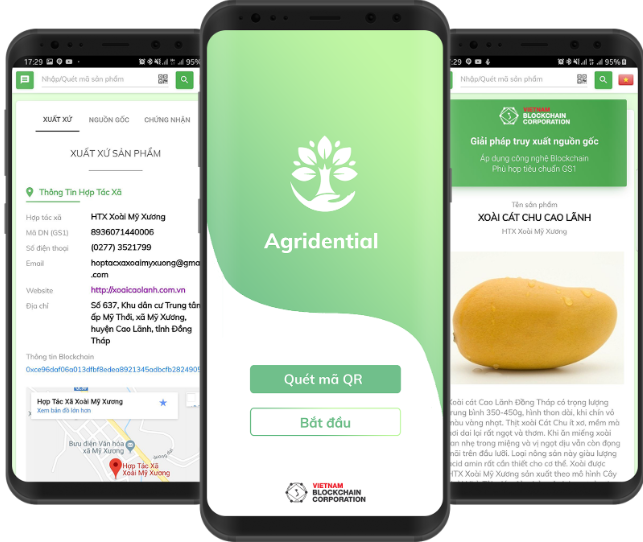 Agridential is a solution to apply blockchain technology to traceability along the value chain according to GS1 standards, helping to transparency of information and product quality, thereby increasing consumer confidence. Traceability along the value chain by blockchain technology helps consumers verify the quality of agricultural products; minimize fraud and risk in the supply chain thereby improving the reputation and brand value for the true businesses in the market. The information is stored in a distributed manner, in multiple copies on the server community but ensuring privacy, not concentrated in one server, so the ability to forge is almost impossible. GS1 standard is a globally recognized standard and is also widely applied by Vietnam. Therefore, the application of GS1 standards in the traceability chain using blockchain technology makes verification easier when exporting to major markets, contributing to increasing product value.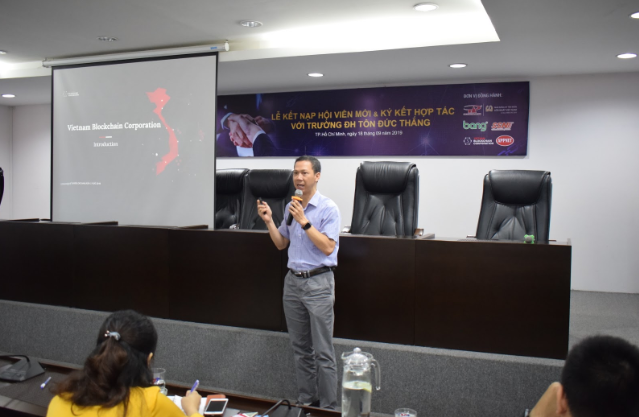 Mr. Do Van Long joined and shared at the event
In addition, Mr. Long further analyzed the blockchain technology applied to the domestic maid identification project being implemented in Hanoi and Ho Chi Minh City. Thanks to the reliable information features, safety, confidentiality, not tampered, quickly updated data, blockchain technology allows to record working time of employees in a transparent manner, and receive commensurate and fair remuneration. Based on the working history of unskilled workers, domestic workers, system can help ordinary workers prove their income ability to access consumer loans or personal financial services when needed. This also opens up a lot of potential for the future direction of the project when connecting the blockchain infrastructure of the employees' work history with the relevant daily life services.
Besides, the smart voting solution applying blockchain technology, Smart Ballot, also attracted the attention of many participants. Smart Ballot is the application of blockchain technology in the voting process with the desire to provide a transparent, confidential and effective voting solution. To ensure objectivity, Smart Ballot only accepts a valid vote when a phone number corresponding to a QR code is sent to the system. With the outstanding features of Blockchain technology, voting information will be stored immutably and transparently on all participating nodes in the Blockchain network.So once the valid votes information is recorded on the Blockchain system, no one can delete, edit or reject. Smart Ballot was applied to the selection of teams participating in the TechFest 2018 Innovation Entrepreneur Contest organized by the Ministry of Science and Technology.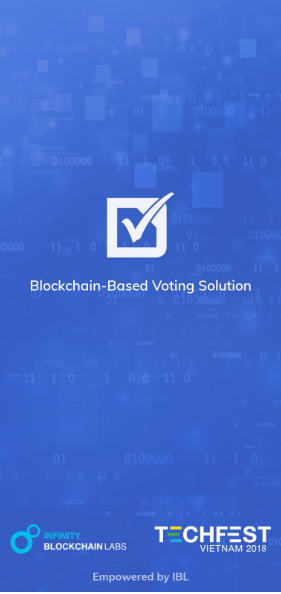 Smart Ballot interface
The event attracted the participation of member units, partners of Banking Association, P.A Vietnam Domain Name Company and students at Ton Duc Thang University in Ho Chi Minh City.
END
—–*—–
Vietnam Blockchain Corporation – VBC Introduction
Vietnam Blockchain Corporation (VBC) is a technology company providing blockchain solutions and services in Agriculture, Manufacture, Supply Chain, Logistics, E-Commerce, Fintech, Sharing Economy, Public Services, and Smart City.
VBC aims to power Vietnam in becoming a Blockchain Country & Expert Hub.
VBC, formerly is Vietnam Blockchain Country project of Infinity Blockchain Labs (IBL).
Infinity Blockchain Labs – IBL Introduction
Infinity Blockchain Labs Co., Ltd. (IBL) is a company that researches and develops Blockchain technology with a commitment to promote social development with future technologies. With the leading position of the blockchain ecosystem in Vietnam and global market coverage, IBL aims to become an R&D unit that brings future technology into practical applications for existing businesses and daily life. Proud to be honored in the top 10 blockchain technology solution providers of 2018 by APAC CIO Outlook, more than 200 members at IBL aspire to make Vietnam a pioneer in researching and developing blockchain in the world.
Contact information
Vietnam Blockchain Corporation – VBC
Address: 5th Floor, Flemington Building, 182 Le Dai Hanh, Ward 15, District 11, TP. HCM
Hotline: (+84) 0377 887 403
Email: contact@vietnamblockchain.asia
Website: https://vietnamblockchain.asia 
Representative: Mr. Do Van Long
Director – Vietnam Blockchain Corporation
Regional Chief Strategy Officer – Infinity Blockchain Labs
Email: longdv@blockchainlabs.asia
Related posts