Ho Chi Minh City, June 20, 2019 – Vietnam Blockchain Corporation (VBC), powered by Infinity Blockchain Labs (IBL), is proud to receive the Award of Top 15 Promising AgTech Startup in Asia Pacific 2019.  The award comes from the evaluation and selection of the best companies with innovative technology solutions for the agricultural sector. The award comes from the leading global start-up business magazine, Startup City Magazine.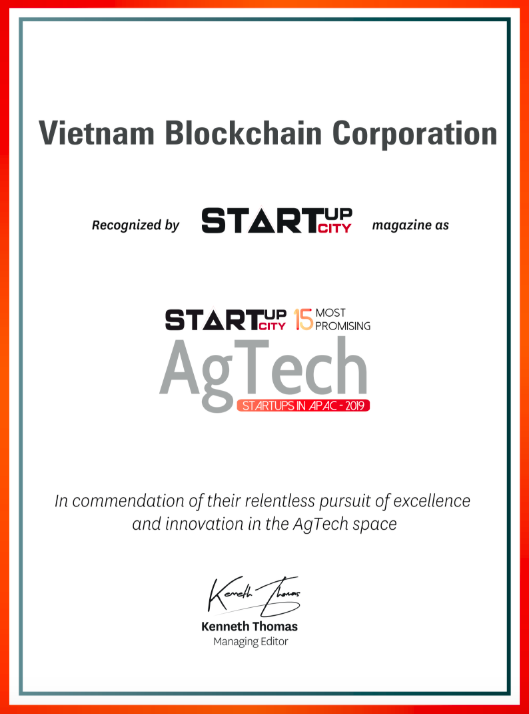 Vietnam Blockchain Corporation is honored with Top 15 Promising AgTech Startup in Agriculture
Inspired to become a technology gateway to bring Vietnam agriculture to the world, VBC sets a pathway to develop blockchain technology solutions to solve agricultural problems for Vietnam market. With this strategy, the company contributes to the development of the Vietnam economy, environment, society, and the community. This effort was acknowledged in the evaluation for the Top 15 Promising AgTech Startup in Agriculture award.
Mr. Do Van Long, Director of Vietnam Blockchain Corporation and the Regional Chief Strategic Officer, IBL, stated, "we are very proud to be a startup enterprise in Vietnam being honored by the foreign magazine, Startup City, in their Top 15 Promising AgTech Startup in Agriculture. This is a testament to the endless efforts of our team and a sustainable and comprehensive development strategy to provide blockchain technology solutions suitable for Vietnamese Agriculture sector and all of the Vietnamese society and community in general."
Mr. Do Van Long also explained the potential of blockchain technology in the Agriculture sector through the solutions being implemented in Vietnam, which is the traceability of agricultural products according to the value chain called "Agridential".
"Agridential" is the GS1-compliant blockchain-based traceability solution that enables transparency in information and product quality which increases consumer confidence. Blockchain traceability helps consumers verify the quality of agricultural products and nearly eliminates fraud and risks in the supply chain.  This enhances brand reputation and creates value for businesses in the local market. Information is distributed and scattered into multiple versions on a multi-server community that ensures privacy. The information is not centralized on a server, so phishing is almost impossible.
All information is recorded by individuals (gardeners, cooperatives, distributors …) in order to avoid the situation that one party manipulates all information. Since all information is recorded using blockchain technology, the information is immutable, meaning the information cannot be deleted, modified, or tampered with. GS1 is a globally recognized standard. Therefore, the application of GS1 standards in the traceability of blockchain technology applications makes verification easier when exporting to major markets and contributes to the increase of product value.
The Agridential solution has proven itself beyond technical tests with a successful use case with mango products in My Xuong Cooperative in Dong Thap. Each mango has been given a QR Code identification stamp using GS1 standard blockchain technology. Consumers can easily look up all the information of the mangoes from their origin such as fertilizing, spraying, and fruit bags, along with information on harvesting and distribution.
Besides My Xuong mango fruit, Agridential and its GS1 standard traceability are also behind other products in provinces within Vietnam.  Other case studies include Biophap organic turmeric powder in Da Nang, Mayaca coffee in Da Nang, and Buoi Nam Roi in Ben Tre. VBC's researchers are also working to pilot the blockchain traceability solution with other products around Vietnam.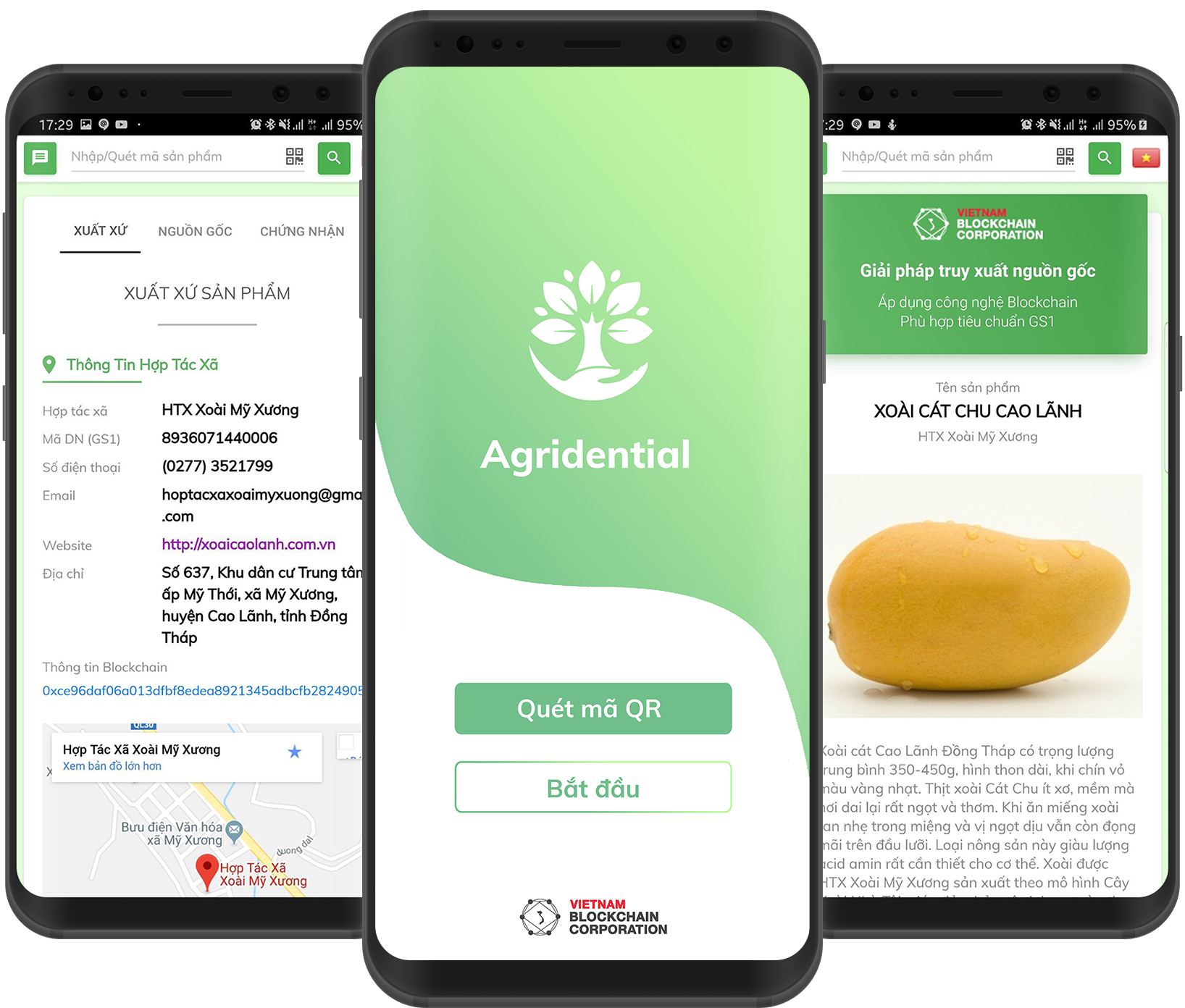 Agridential interface
END
—–*—–
Vietnam Blockchain Corporation – VBC Introduction
Vietnam Blockchain Corporation (VBC) is a technology company providing blockchain solutions and services in Agriculture, Manufacture, Supply Chain, Logistics, E-Commerce, Fintech, Sharing Economy, Public Services, and Smart City.
VBC aims to power Vietnam in becoming a Blockchain Country & Expert Hub.
VBC is formerly Vietnam Blockchain Country project of Infinity Blockchain Labs (IBL)
Infinity Blockchain Labs – IBL Introduction
Infinity Blockchain Labs Co., Ltd. (IBL) is a company that researches and develops Blockchain technology with a commitment to promote social development with future technologies. With the leading position of the blockchain ecosystem in Vietnam and global market coverage, IBL aims to become an R&D unit that brings future technology into practical applications for existing businesses and daily life. Proud to be honored in the top 10 blockchain technology solution providers of 2018 by APAC CIO Outlook, more than 200 members at IBL aspire to make Vietnam a pioneer in researching and developing blockchain in the world.
Contact information
Vietnam Blockchain Corporation – VBC
Address: 5th Floor, Flemington Building, 182 Le Dai Hanh, Ward 15, District 11, TP. HCM
Hotline: (+84) 0377 887 403
Email: contact@vietnamblockchain.asia
Website: https://vietnamblockchain.asia 
Representative: Mr. Do Van Long
Director – Vietnam Blockchain Corporation
Regional Chief Strategy Officer – Infinity Blockchain Labs
Email: longdv@blockchainlabs.asia
Related posts