Ho Chi Minh City, November 11, 2019 – Vietnam Blockchain Corporation (VBC) presented Blockchain-based Financial Profile Solution, named Trustless Credentials, at Singapore Fintech Festival 2019. Three-day Conference & Exhibition at Singapore Fintech Festival will take place from 11 to 13 November 2019 at the Singapore Expo. The Conference will feature for the first time the theme of sustainability, and cover Financial Services; Industry 4.0 – Artificial Intelligence, Blockchain, Cloud and Cybersecurity; Financial Inclusion; Green Finance; and Technology Beyond Finance.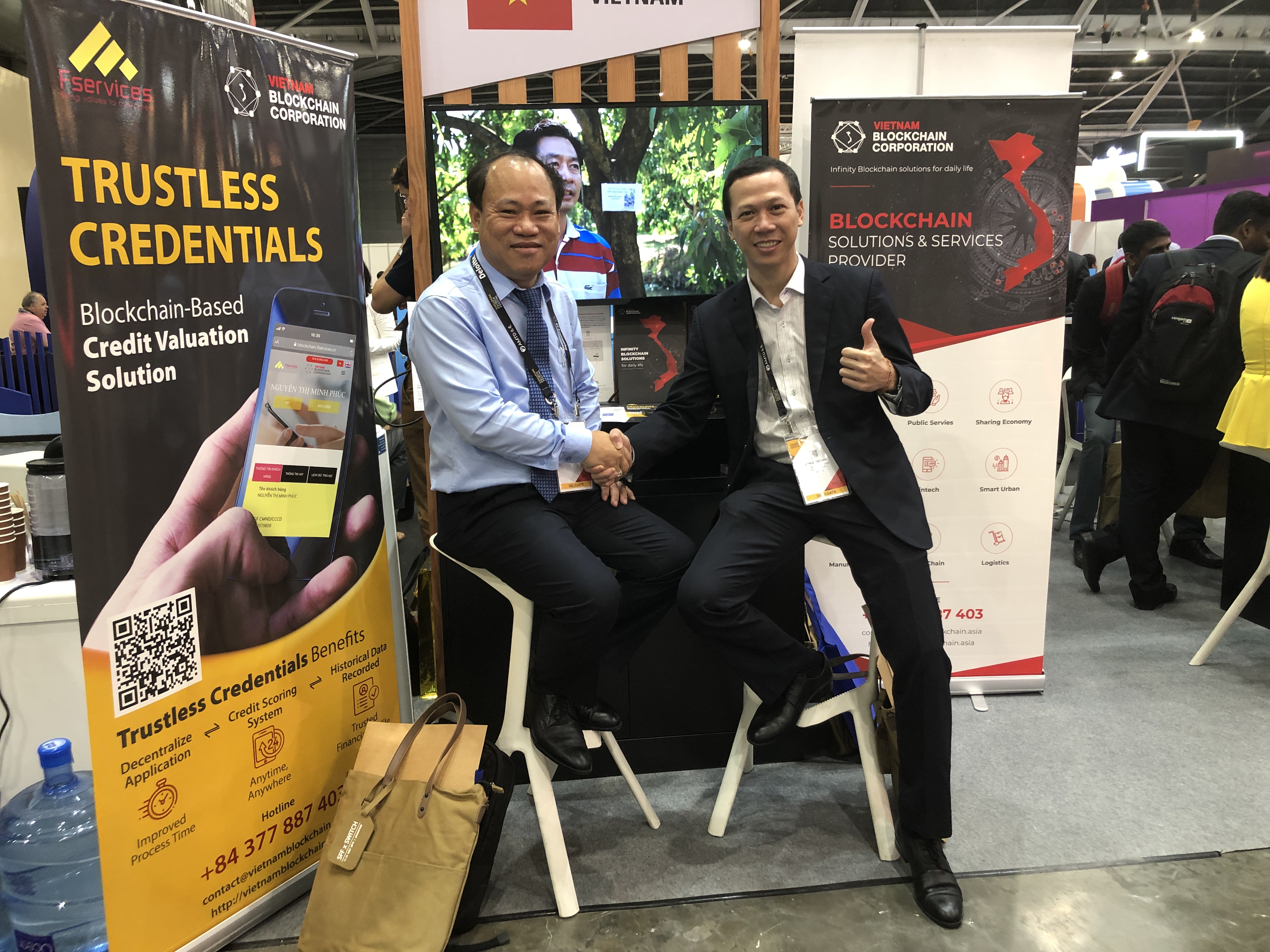 Mr. Do Van Long, General Director of Vietnam Blockchain Corporation, (right) presented Trustless Credential to attendee at the exhibition counter at Singapore Fintech Festival 2019
Trustless Credentials, developed by Vietnam Blockchain Corporation (VBC), is a blockchain-based Financial Profile solution. Each user is provided an identification code, in the form of QR code. All the identification information, bank loan records, insurance documents, payment history, are immutably recorded on blockchain and easily access on smartphones and computers connected to the Internet.
Information of each transaction process is presented transparently and clearly, making it easy to detect immediately if there is fraud or confusion. In particular, once the information is recorded on Blockchain, it is impossible to edit or change. The information will become a reliable reconciliation to help borrowers and banks verify the accuracy and protect their rights when an incident occurs. Financial transaction history stores safely and confidentially. The data is stored in a decentralized system and only the holder of the Secret Key is able to conduct legal transactions with its data as well as being allowed to send information to the blockchain nodes on the system. Blockchain will help speed up processing, reduce the complexity of paperwork and lower the cost of credit application processing.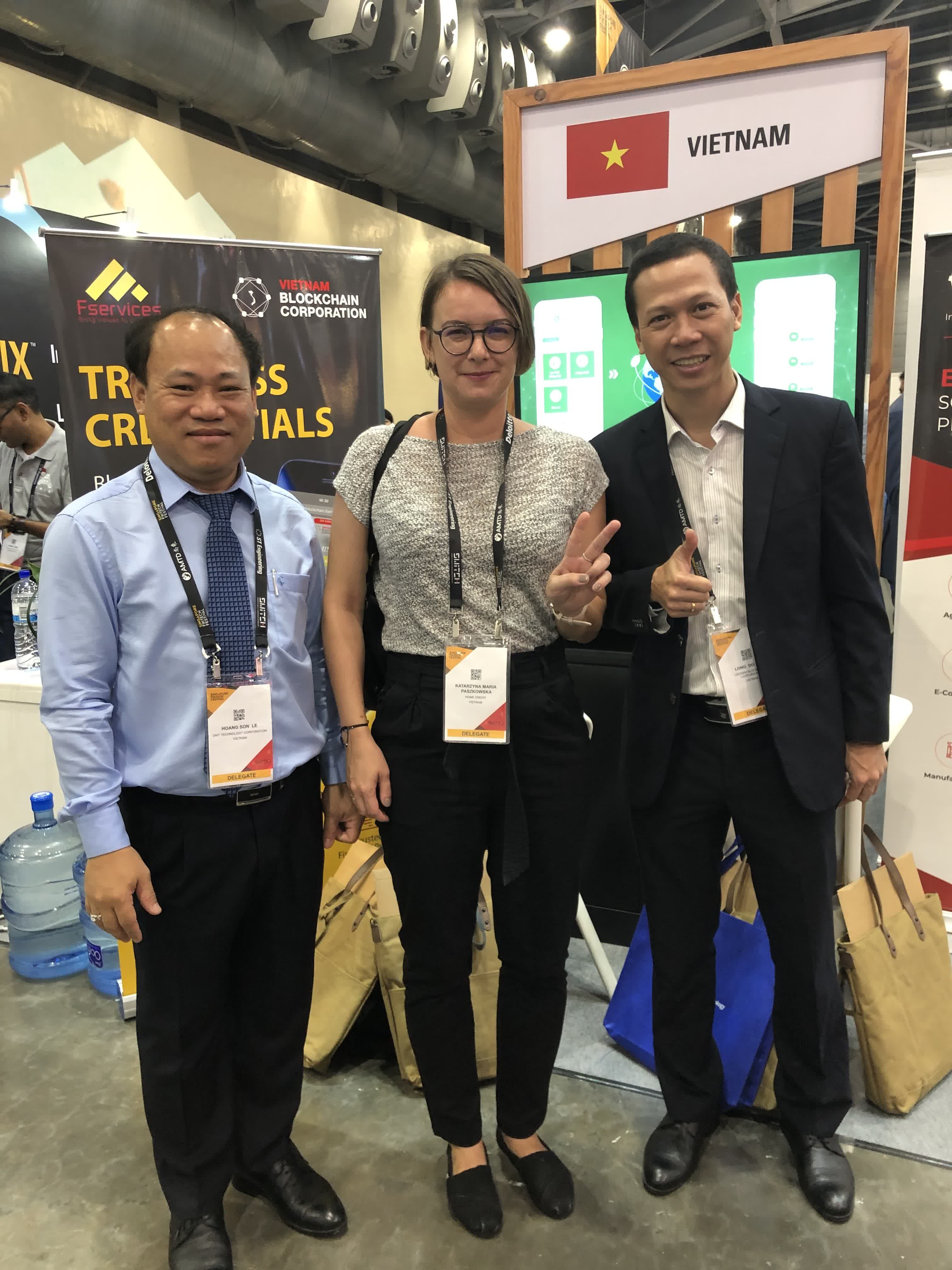 Trustless Credentials from Vietnam receives many interests from international audience
Trustless Credentials, for the first time, is presented at Singapore Fintech Festival 2019. This is the only Fintech solution represents Vietnam joins the event, among 497 exhibitors in 37 countries. Trustless Credentials receives many interests and inquiries from attendees.
Mr. Do Van Long, General Director of Vietnam Blockchain Corporation, shared, "Fintech is considered the new trend of future banking system. The cooperation between Banks and Fintech companies have been strongly promoted around the world in recent years, and have become a tendency in Vietnam. Blockchain technology, thanks to its advantage of sharing data information transparently in real time, saving storage space and guaranteeing high security, will certainly be one of the indispensable development strategy in the future of banks and fintech institutions."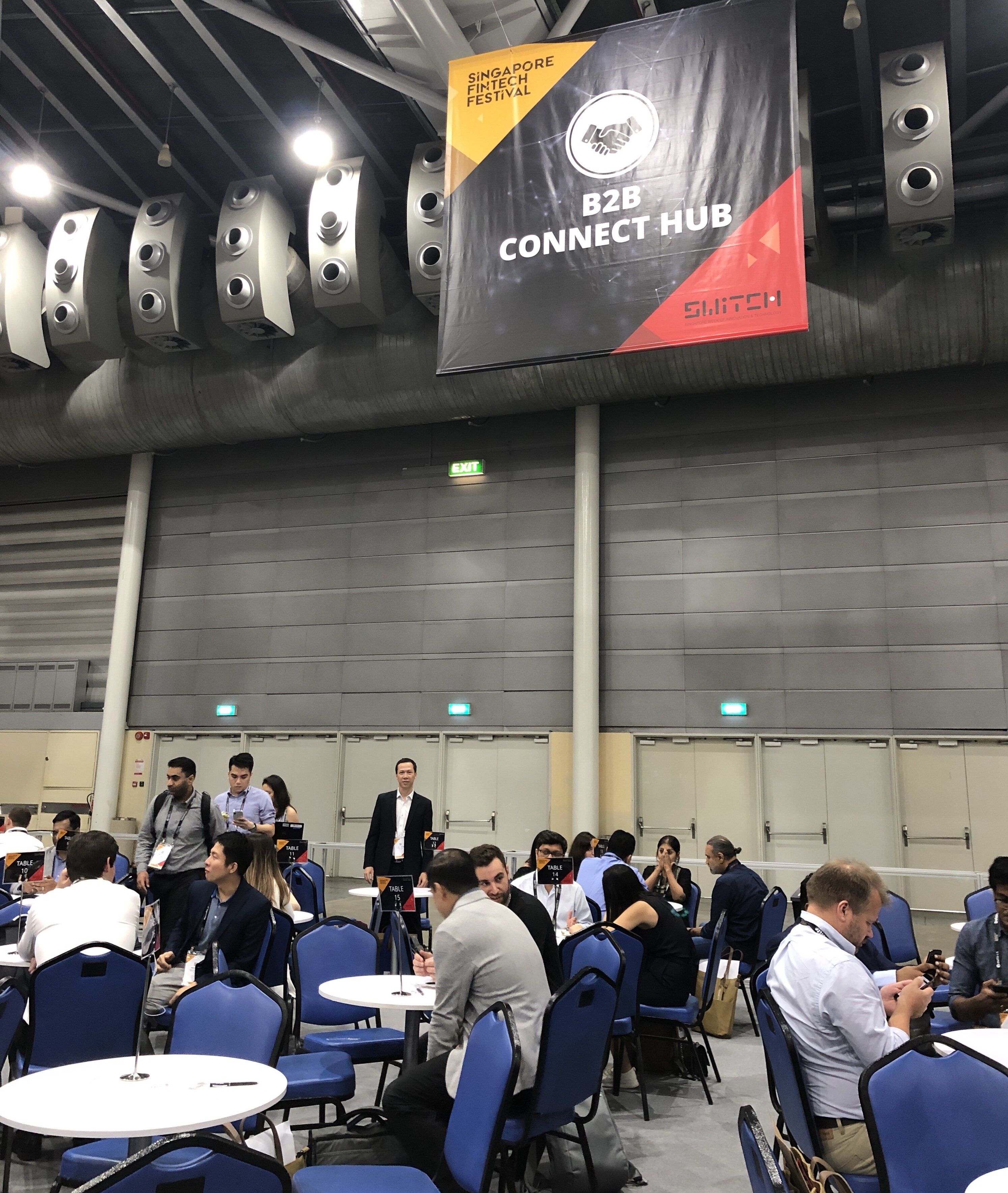 VBC connects with many international partners to introduce Trustless Credentials in "B2B Connect Hub"
Singapore FinTech Festival (SFF) and the Singapore Week of Innovation and TeCHnology (SWITCH) would come together as SFF x SWITCH to synergise across the themes of FinTech and Deep Tech. SFF x SWITCH will bring insights from global thought leaders, showcase innovative solutions, and engage entrepreneurs, investors and innovators from around the world. It will also provide rich networking opportunities for participants to collaborate on technological innovation across five key sectors – FinTech, Urban Solutions and Sustainability, Health and Biomedical Sciences, Advanced Manufacturing and Engineering, and Digital Services. Participants can look forward to the following key events. The Exhibition will feature country pavilions, industry exhibitors, financial industry showcase booths, and a startup zone.
Mr Sopnendu Mohanty, Chief FinTech Officer, MAS, said, "The Singapore FinTech Festival is the world's largest FinTech gathering and a marquee event for the global FinTech community. Our partnership with SWITCH this year allows us to engage technology ecosystems beyond FinTech, and to present a comprehensive showcase of innovations that benefit all segments of society. We look forward to welcoming players from the FinTech and wider technology community from all over the world to Singapore, to connect, collaborate, and celebrate innovation."
Singapore FinTech Festival is organised by The Monetary Authority of Singapore (MAS), Enterprise Singapore and the National Research Foundation (NRF), and in collaboration with SingEx Holdings. SWITCH is organised by Enterprise Singapore, NRF, and Intellectual Property Intermediary (IPI). 
END
—–*—–
About Vietnam Blockchain Corporation (VBC)
Vietnam Blockchain Corporation (VBC) is a technology company providing blockchain solutions and services in Agriculture, Manufacture, Supply Chain, Logistics, E-Commerce, Fintech, Sharing Economy, Public Services, and Smart City. VBC aims to power Vietnam in becoming a Blockchain Country & Expert Hub.
About Singapore FinTech Festival (SFF)
Singapore FinTech Festival (SFF) is the world's largest FinTech event and a global platform for the FinTech community, drawing close to 45,000 participants comprising FinTech players, technopreneurs, policy makers, financial industry leaders, investors including private equity players and venture capitalists, and academics. The 2018 Festival saw participants from over 127 countries, hosted more than 250 global luminaries and 480 exhibitors, and featured highlights such as the FinTech Conference with a new AI in Finance Summit and Global Investors' Summit, the FinTech Awards, Global FinTech Hackcelerator, Innovation Lab Crawl and Industry Networking and Workshops. The Festival is organised by the Monetary Authority of Singapore (MAS) in partnership with The Association of Banks in Singapore and in collaboration with SingEx Holdings. Find out more at http://fintechfestival.sg.
Contact information
Vietnam Blockchain Corporation – VBC
Address: 5th Floor, Flemington Building, 182 Le Dai Hanh, Ward 15, District 11, TP. HCM
Hotline: (+84) 0377 887 403
Email: contact@vietnamblockchain.asia
Website: https://vietnamblockchain.asia 
Representative: Mr. Do Van Long
General Director – Vietnam Blockchain Corporation
Email: longdv@vietnamblockchain.asia
Phone: 0908 444 095
Related posts